Founded in 2008, Versatile Creative is dedicated to creating meaningful experiences.
Experiences are meaningful when we consider the whole, speak from the heart, do the right thing and do it well.
Find meaning by hiring Julie Williams as a facilitator or exploring practices & tools for living with integrity.
Business Evolution
It was actually on her first retreat that founder Julie Williams discerned the path to graduate school for strategic communications and journalism and the first intention of the business, started only a year later.
She initially started Versatile Creative Consulting to service her past nonprofit employers while also still attending graduate school. Inspired by companies like Patagonia, she committed to supporting social enterprise as the new norm for business.
Over the years, Versatile Creative has offered integrated marketing communication (IMC) strategic planning and communications staff development counsel, along with freelance and contract communications services, working with a range of maturing, mission-driven organizations, including B. Corps, nonprofits, universities and large corporations. Julie enjoyed servicing her passion areas of education, outdoor lifestyle, apparel and personal growth sectors.
Through a decade of combined in-house, agency and consulting experiences, Julie built expertise as an award-winning integrated marketing communications practitioner and counselor and designed a holistic approach to planning, training and facilitation that inspires creative and practical outcomes.
During her entrepreneurial journey, Julie discovered that long-term consulting engagements don't always meet client's immediate needs and often take budget away from actual communications work. She noticed that tactics and campaigns often weren't getting to the heart of the issue and what's most meaningful to the client and those they serve in order to truly connect and achieve desired results. Often that's because clients weren't connected to themselves.
A new path forward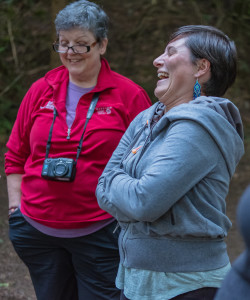 Meanwhile this journey was braided together with Jules' personal development and spiritual journey. Each season, she retreated in solitude to the Oregon coast to continue discernment and seeking deeper connection. The insights showed up from walking, meditating, reading and being. And, also from creating, making, journaling and conversation.
And then, she started observing Sabbath and realized this retreat state of being was actually available to her every week. Sometimes even during the week!
Her roots in teaching and leadership started to pop up. And, her family nickname started to feel more true as well, so she started going by Jules everywhere. Jules started integrating facilitation more into her consulting practice and her professional development, attending facilitation training courses, organizing and attending retreats with community organizations, presenting and speaking more frequently, and creating meaning through writing and blogging.
Jules started a new blog, EverydayIntegrity.com, in 2017 to offer her reflections and lessons learned, as well as retreats and courses, to fellow soul searchers devoted to living with integrity, everyday.
Along the way, Consulting fell from the DBA to simply Versatile Creative LLC, though the name has stuck as creativity and adaptability are in Jules' blood.
A decade and 50+ personal, community and company retreats later (along with 100+ "weekly retreat" days of Sabbath), retreat continues to be the most enlightening practice for embracing reality and finding meaning that truly connects us.
THE power of retreat
Retreats are a collaborative, creative, fun and challenging process. Working together to connect, define, create, design and present strategies, we expedite the lengthily review and buy-in process from months into hours, at a fraction of the cost and effort.
Depending on the retreat objective and team dynamic, numerous tools are pulled from Jules' toolbox to ensure a rich learning and community building experience. This toolbox has been built over 20 years of cumulative experience as a community leader, professional communicator, writer, teacher, consultant and observer of life.
Contact Julie through your favorite way of connecting to learn more.
Photo Credit: Tristanne Endrina (facebook.com/MissTrisPhotography).